Sign #6 that your company's message is obsolete and it's time to reposition.
Monday, December 28, 2015

Disruptive technologies have changed the game, creating new options, platforms and purchasing patterns in both B2B and B2C business environments. Major events and trends also drive change and require a re-evaluation of marketing messages.
Used to be, these milestones occurred once every two or three years. Now they do practically every week!
Do you surf? (we don't either, but for the sake of this analogy, let's pretend we do). These changes in the business landscape are like waves in the ocean. They come at you fast and they're unpredictable. Some are huge; others so small that you can pretty much ignore them. Some sneak up on you. But one thing for sure: they're constant.
Now, you can't modify your surfboard every time you see a wave coming your way. You can only shift its position. The more agile and adept you are at this, the more types of waves you'll be able to weather.
In marketing, we call this repositioning.
So, when faced with a new competitor, a superior technology, an unexpected disruption, your first question should not be: How can I modify my company (or products) to protect myself?
Your first question should be: How can I reposition my company (and products) to take full advantage of this wave?
---
Case study: MessageBroadcast

Over 10 years in business MessageBroadcast had evolved from a simple voice messaging provider into an integrator of automated communications for CRM on multiple channels: email, voice, text and broadband. Our strategic rebranding and marketing programs contributed to enormous growth over the subsequent 2 years, with major clients like Chase bank and Verizon. Our website simplified and organized a highly complex story, presenting clear value propositions. Result: Signed larger accounts, from a "top 5" bank to major telcos.
See other components of this program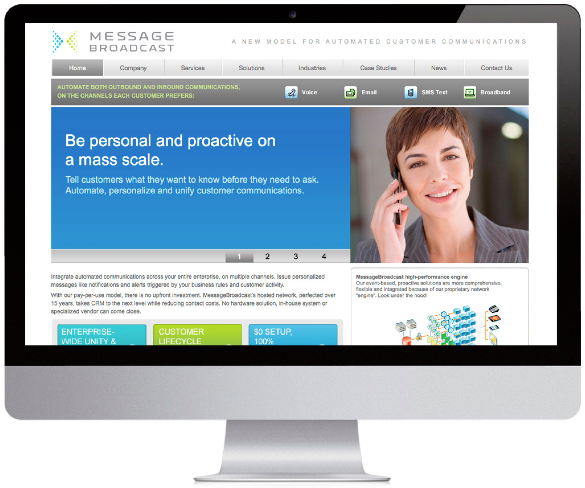 By Farida Fotouhi