Sign #3 that your company's message is obsolete and it's time to reposition.
Thursday, January 1, 2015

Your current value proposition isn't quite so unique anymore. Maybe there's new competition – whether from new technologies or cheaper knock-offs. Or, a big competitor is about to enter your niche and you need to pre-empt them.
Here's the good news: you may not have to reengineer your services, add new features or invent new products to stay competitive (although all those things will help). Sometimes what you need to do is look at your competition in a new way.
If you're like most companies, you probably spend quite a bit of time analyzing what your competitors are doing. Just as important, if not more, is studying what your competitors are saying.
This is where repositioning can be really helpful. Without changing any of your products' basic attributes, you can position them to do different things. Like fend off a low-price competitor's claims (by highlighting your superior technology, for instance) or counteract a new technology (by pointing out your track record of reliability).
You get the idea. Repositioning is like a tennis match. The way you depict your company and products should stay nimble in order to respond to competitive threats as they come at you.
Repositioning is one of the easiest and least expensive ways to stay competitive. All you have to do is focus on the messages that are being communicated. Yours, as well as your competitors'.
---
Case study: SNL Energy

SNL Energy reinvented the energy business intelligence sector 9 years ago with the first web-based interactive platform. Larger, legacy providers have redouble their efforts to dominate the space, but SNL Energy has remained the top source for data, analytics, news and pricing for anybody involved in the energy space. Our interactive microsite sums up the advantages. Result: 500% sales increase over 4 years.
Visit website and see other components of this program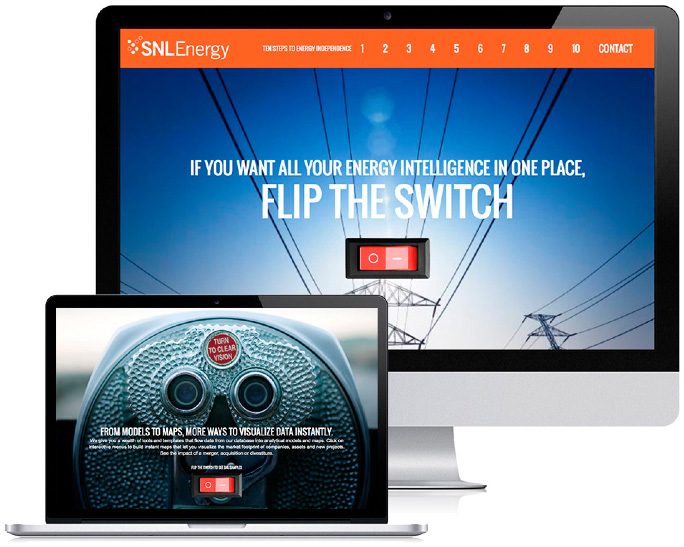 By Farida Fotouhi