50 YEARS OF REDEFINING COMMUNITY HEALTH THROUGH WHOLE PERSON CARE
Our systemic approach creates sustainable impact
When we opened our doors as the LA Free Clinic in 1967, we didn't realize our integrated and holistic approach to treating the entire individual would pioneer what is practiced today as Whole Person Care. This values-based approach to the health of the whole person is truly transforming the lives of people in need and creating sustainably healthier communities.
Click on circles to see how
FOUNDED IN THE FUNDAMENTAL BELIEF THAT

HEALTH CARE IS A RIGHT, NOT A PRIVILEGE
We've had a very supportive family growing up
From the LA Free Clinic in 1967 to our three Whole Person Care clinics in 2017
TAKE OUR AMAZING 50-YEAR TOUR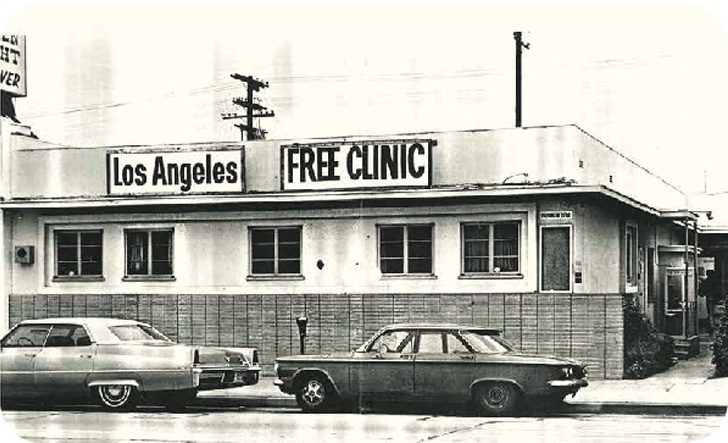 Summer of Love 1967: LA Free Clinic opened offering medical care, therapy, job co-op & draft counseling to "counterculture" youth. Closed due to lack of funds. Re-opened in1968 with a $5,000 donation from the 1967 Monterey Pop Festival. Dental department opens in 1968.
Volunteers serve 110,000 people in first 3 years free of charge. Elvis walks in with $10,000 donation, requesting no PR.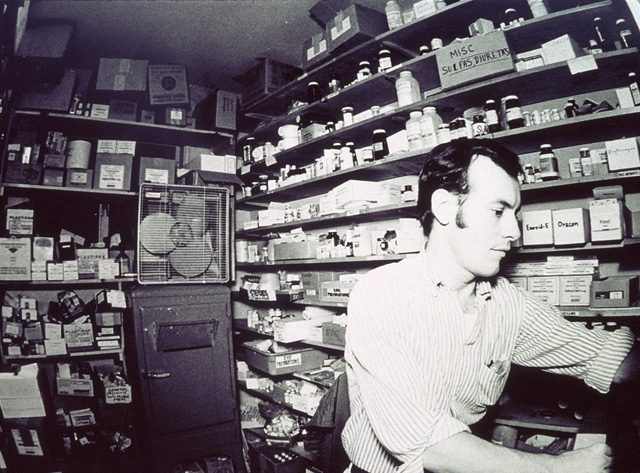 LA County cooperation begins. $10,000 grant from A&M Records funds drug abuse counseling. Friends of the LA Free Clinic board formed by Mimi West to professionalize fundraising and standard of care.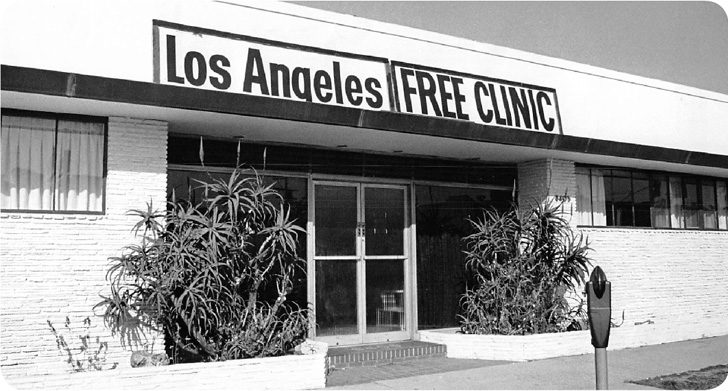 Spacious new building bought at 8405 Beverly Blvd: funds raised by Mimi West and Seniel Ostrow. Patient population broadens from hippies to urban poor and homeless.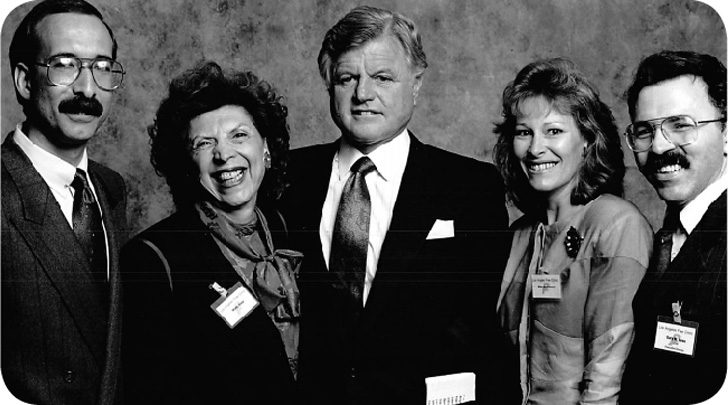 Children's Hospital partnerships: High Risk Youth program ('82). Fellowship in Medicine program - UCLA students ('84). Beverly building rebuilt to 3 stories, adds showers for homeless. Mimi West, Ellen Hoberman and Joel Schwartz chair campaign. Ted Kennedy officiates at opening. ('87)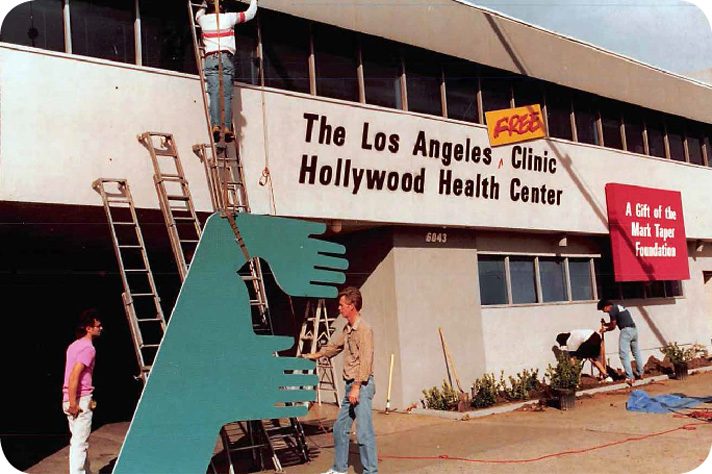 S. Mark Taper Foundation supports further expansion with purchase of Hollywood site. High-risk youth program moves to community where it's most needed, providing medical, HIV/AIDS care, education outreach, job preparation/placement.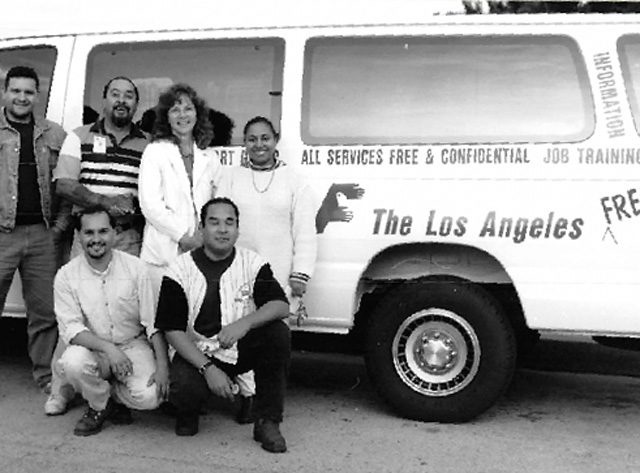 Mobile Multi-Services Center assists homeless. Clinic has 60 paid staff, $4 million budget and serves 40,000 patients a year. '96: National "Models that Work" award. '97: Cedars-Sinai partnership – prenatal care for high-risk youth.
30th Anniversary campaign raises $5 million to pay off Taper site mortgage. Lead gifts from Mimi and Bernie West, Barbara and Garry Marshall and Cheryl and Haim Saban fund pediatric dental, High Risk Youth Program and Women's Wellness Clinic.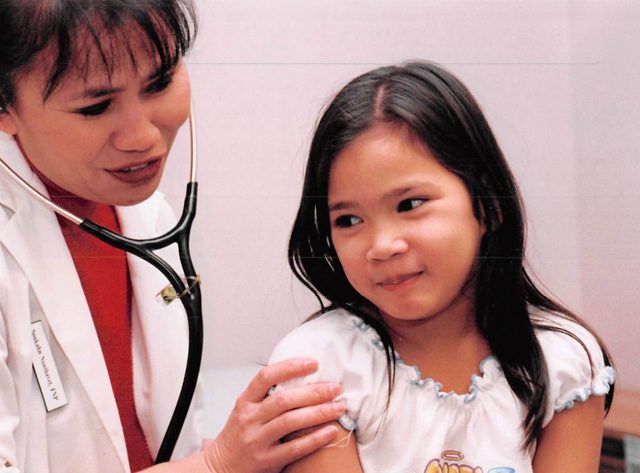 Third site opens: Hollywood Wilshire Clinic. Unique public/private partnership increases number of patients seen by one third. Offers free vaccinations for kids and adults. Services added: Diabetes, hypertension, OB/GYN, insurance enrollment.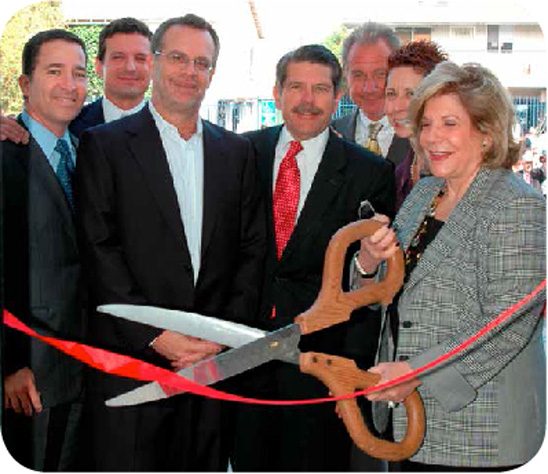 Wallis Annenberg Children and Family Health Center opens with $17 million raised at 40th Anniversary. Campaign chair: Sam Fischer. Clinic gets face-lift on Extreme Makeover: Home Edition.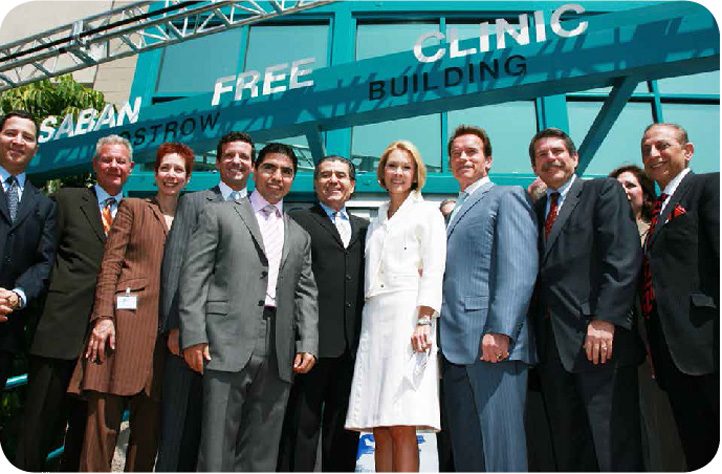 $10 million from Cheryl & Haim Saban. The Clinic is re-named Saban Free Clinic in honor of largest individual donation received to date.
Federally Qualified Health Center designation received, allowing the Clinic to apply for federal funding to offset costs and expand services. The Clinic is renamed Saban Community Clinic.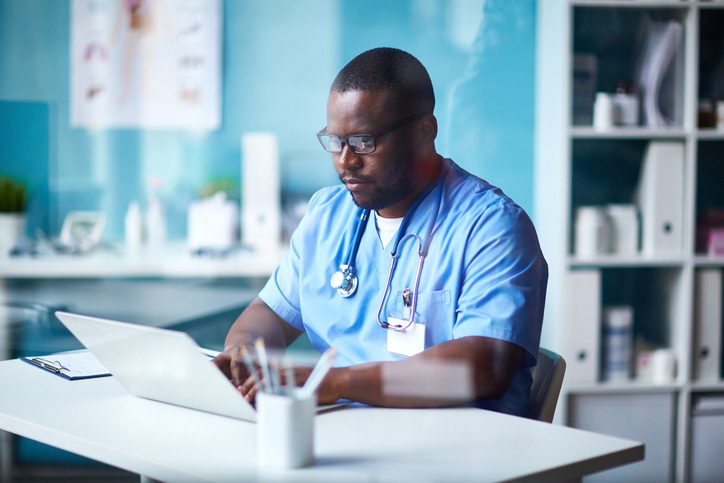 Electronic Health Records transition completed at all three Clinic sites to further enable whole person care at cutting edge of technology.
Our 50th Anniversary. With 220 employees and a $22 million budget the Clinic provides more than 100,000 patient visits per year.
SEE MORE HISTORIC PHOTOS HERE
OUR CLIENTS HAVE COME A LONG WAY SINCE
THE 60'S, 70'S AND 80'S
Cheryl Saban, PhD credits the Los Angeles Free Clinic with helping her get through difficult times in the 1980s. Fast forward: a successful psychologist working to empower women, she and her husband Haim Saban made a $10 million donation in 2008 to what is now the Saban Community Clinic. How far we've all come!
VIEW 1968 FILM
Filmed and edited by Bob Eberlein and Paul Deason in 1968
Showers that open new doors for the homeless
Our unique shower program can be the gateway to a new life and exemplifies Whole Person Care. Invited to use one of our showers, a homeless person can talk with a case manager, who is his or her "concierge" to our medical, behavioral health, dental and vision care services – as well as to outside partners for housing and job training.
How we helped Sean
From HIV to cancer, screenings that save lives
Click
Substance abuse clinics that turn lives around
Click
Experiences that make doctors healers
Click
From HIV to cancer, screenings that save lives
Our emphasis on preventive care ranges from vaccinations to life-saving screenings. Our HIV screening program encourages HIV testing ("Know Where You Stand" campaign). Our specialists provide comprehensive treatment plans for patients living with HIV, and work with at-risk patients on HIV prevention. In 2016 we administered 3,026 colorectal cancer screenings (removing precancerous polyps at earliest stages) and 4,272 cervical cancer screenings.
Substance abuse clinics that turn lives around
One of our successful clinics takes a multi-disciplinary approach to opioid addition. A dynamic team of physicians, behavioral health specialists, physical therapists, pain control consultants, and nurse-practitioners work together to coordinate each patient's "Take Charge" recovery program.
Experiences that make doctors healers
Saban Community Clinic is a respected teaching facility. We partner with prestigious medical schools (like UCLA and USC) and providers (like Cedars-Sinai and Kaiser) to provide young doctors with medical residency and training programs.
Women's Health and Family Planning
We're the safe place for women of all ages to get quality health care regardless of income or immigration status. Complete OB/GYN services include prenatal and post-natal care, birth control, and STD screening/treatment. Our breast and cervical cancer early detection program includes our bilingual "bikini" campaign for "top" (mammogram) and "bottom" (pap smear) tests. Early detection is known to save lives!
How we helped Laly
Three sites where real change happens
Now more than ever, our three clinics play an essential role in transforming community health. By providing whole person care to everyone regardless of income or immigration status, we treat or prevent illness and reduce costly emergency room visits. By connecting vulnerable people with social services that help turn their lives around, we've been the hub of positive systemic change for 50 years, regardless of the political climate. Supporting our clinic makes LA a healthier, more vibrant place to live. Be part of the solution!
MAKE A DONATION NOW AND

SUPPORT OUR FUTURE
When you donate, here's what your money can buy
Homeless Services: Provides 2 patients with a shower and amenity kit

Vaccines: Provides 2 patients with an annual flu vaccine
$30
Oral Hygiene kit for 25 patients (toothbrush, toothpaste and floss)

One month of Medication for uninsured patient
$50
Dental Care: Dental cleaning for 1 patient

Vision: Eye Exam and Frames for 1 patient

Support Group Session for 5 clients (Mens Group, Women's Group, Teen Group, Anger Management)
$100
HIV screening and care: 5 HIV Rapid Tests

Individual Counseling Session
$250
Women's Health: Medical Exam, Flu vaccine, Tdap vaccine and Gardasil Vaccines (3 doses for HPV and Cervical Cancer)
$500
Diabetes care: Provides vaccines for 5 diabetes patients for a year (flu, tetanus, whooping cough)

Opioid Clinic: Provides 1 year of care to 4 patients dependent on habit forming prescription drugs
$1,000
Homeless Care: Provides 20 Homeless patients with case management and a comprehensive medical care visit

Oral Care: Provide 4 patients with a full set of dentures
$5,000
Complete Care: Provides 5 individuals with medical, dental and vision care for 1 year

Provides 3 HIV patients with medication for a month
$10,000
Donate