Microsites in B2B marketing: a formula that works
Sunday, December 20, 2015
Turns out a guiding principle of online consumer marketing works for B2B as well. Instead of sending respondents to a general corporate website, send them to an interactive landing page or "mini site" developed specifically for the campaign or vertical market.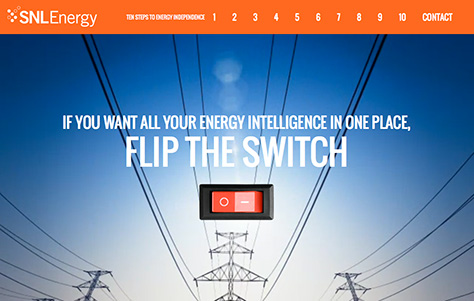 Here's the secret formula we've refined over the past 12 months to create engagement:
Give information in bite-sized pieces on the interactive mini site, so visitors can control the process of revelation. The interactivity of the tabs (with short copy) makes it fun. People end up reading more, painlessly.
Provide multiple calls to action. Give people attractive choices and promotional offers whenever possible. Keep the calls to action always visible as people move through the mini site.
Let people escalate their level of interest and commitment without barriers. No registration required for informative material. It's fine to offer a white paper upon registration, but we've found that we increase direct sales inquiries by removing this barrier.
Offer a cool personal item as an incentive for registering or signing up for a demo – including the chance to enter a drawing.
Offer a downloadable brochure PDF as well as a way to instantly "drill down" after reading each tab.
Make the design clean, the headlines clear, the look simple and the navigation easy. Give the mini site a theme that ties in with the rest of the campaign (emails, online and print ads, social media, online press releases).
Sales contact information (both phone and email) should be prominent and always visible. And of course, provide a link to the corporate site too.
We developed and tested tabbed landing pages/mini sites for our client SNL over a year ago. They were so effective that now we do a landing page as part of every campaign, for each division and product line. In the example above, when SNL Energy expanded its web-based energy information service we positioned it as the "smartest energy source" and created this landing page as the multi-media campaign "hub".
By Farida Fotouhi