Are you being commoditized?
"We're being commoditized. All customers care about right now is price." This is a grim statement, tantamount to a curse. If your customers are scrambling, saving money is going to float to the top of the purchase criteria list.
Unless you're a behemoth that can afford to discount and take it in the shorts for a while, or else the price leader who does everything on the cheap, you've got a big problem. Do you have to kiss your profits goodbye to compete?
Marketing and branding aren't cure-alls but they can help. Take stock of all the things that you do to add value, the things that customers don't get when they go with the cheap guys. Then, figure out how to package and sell your value-add in ways that make a difference to your customers.
Daylight Transport's Strategic Saver program
Our client Daylight Transport has always been a value-added player in the nationwide LTL (less than truckload) business. They help customers address strategic issues like supply chain optimization. When discount mania hit, we repositioned these added benefits as different ways to save money in what we called Daylight's Strategic Saver program. The Phase I goal was to get more business from current and lapsed customers in Daylight's database.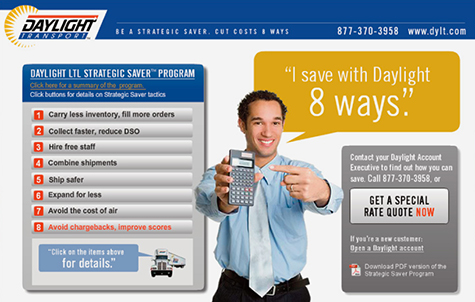 All of Daylight's 70 account executives sold added value to different degrees. We made sure that everyone was on the same page with an integrated sales support program that included both materials and training in how to use the Strategic Saver concepts. The idea was to get customers into conversations that weren't just about low rates.
The Phase I campaign included 9 emails, each with one Strategic Saver tactic, to a list of 16,000 current and lapsed customers. The emails clicked through to an interactive landing page with detail on each of 8 Strategic Saver tactics. There were also banners on the homepage, and inbound links in online press releases, all pointing to the landing page. A brochure leave-behind and a customizable PowerPoint presentation were used in sales calls. Creatively, we brought Daylight's customer-friendly solution-selling approach to life by showing "customers" stating key benefits in talk bubbles.
The results? The sales people were energized by a program that differentiated Daylight, expressed the brand, and helped them get beyond commoditization in a price-sensitive market. In a year-to-year comparison of the first three-month period of this program, Daylight counted over $5 million in incremental revenue from lapsed customers who hadn't shipped with them during the same period the prior year. In Phase II, we rolled out the program to support sales to new prospects, with even stronger results.
By Farida Fotouhi