A model for cleantech marketing: what's the ROI?
Friday, December 18, 2015

Wouldn't it be nice if a product could sell just on the strength of its benefit to the environment? Whether you reduce waste, greenhouse gas emissions or dependence on foreign oil, a reality is that nobody's going to buy your product just because it's green, particularly in the B2B space.
Sustainability is great, but what's important is a sustainable business advantage. Purchasers want to know what the ROI is on your process, technology or material. And if your product costs more, you need to do your value-added selling to demonstrate better overall payback. The public sector can be more environmentally conscious than private business, but when it comes to deciding how to spend beleaguered budgets, cost is still a driving factor.
This is common sense, but we've found that most of our cleantech clients still need a lot of help shaping and telling the business story in a way that resonates with each of their vertical markets. We always say that inventing a technology and communicating about it require two entirely different skill sets.
Case in point: Pavement Recycling Systems (PRS), $35 million infrastructure company in Southern California, came to Reality2 Marketing for assistance in growing its business. PRS had developed a number of innovative technologies including a system that rebuilds deteriorated roads by pulverizing, remixing and reapplying in-place asphalt.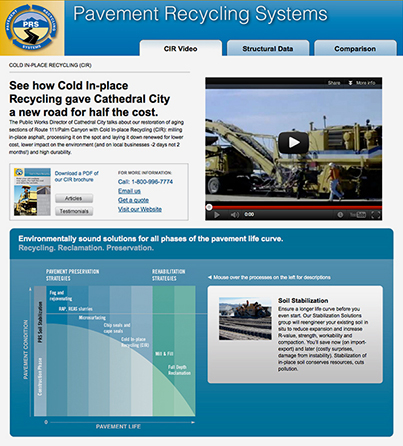 The first order of the day was repositioning and rebranding of the foundational elements: the company's website (the marketing hub – where everyone goes to check out a company), sales support materials (nothing beats a good brochure to reinforce a face-to-face meeting) and sales presentations (PowerPoints that tell a compelling story). Reality2 applied our "Reality-based" analytical process to identify the key business drivers and developed PRS's positioning and marketing strategy. Then, we brought it to life in a new website, sales kit and presentation.
Outreach marketing programs such as email and advertising were launched only after the foundational elements (such as the website) were upgraded – a sequence Reality2 enforces wherever possible to optimize return on marketing investment.
The most recent marketing success is a lead-generating email campaign to city governments, with targeted messages to different decision-makers from mayors to city engineers, linking to interactive landing pages with videos, testimonials, cost/performance comparisons, and calls to action.
By Farida Fotouhi